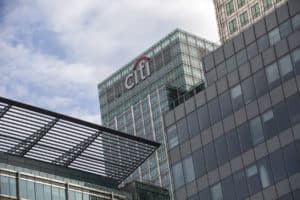 Cash equity trading teams in London have been shrinking for years, but Citi is bucking that trend with the hiring of three new traders for its stocks division.
The US bank has hired Mark Brodie from BTIG, Jack Clayton from Berenberg and Wale Osikomaiya from Investec, according to people familiar with the matter who spoke on condition of anonymity as the matter is private.
A Citi spokesperson declined to comment. BTIG, Berenberg, Clayton, Osikomaiya and Brodie didn't immediately respond to a request for comment. Investec also declined to comment on the matter.
The move by Citi runs contrary to the trend seen in recent years. In 2019, Deutsche Bank confirmed it was going to pull out of its global equities business as part of a restructuring that involved the cull of 18,000 jobs.
Australian bank Macquarie said it was also cutting about one hundred equities jobs in New York and London, later that same month. Lenders including Citi and Berenberg also scaled back equity teams at the time as the banks saw reduced demand for research after the introduction of Europe's MiFID II regulations. Falling commissions, the increased use of direct market access (DMA) and crossing networks all contributed to this decline.
This trend may have now run its course. In December, a Citi internal memo seen by The TRADE detailed a management reshuffle of its global equities sales division as it sought to become one of the top four banks in terms of stock trading rankings.
"Our mission is to be relevant, best-in-class at everything we do for our clients and to become a top four competitor within the next two to three year," Citi's global head of equities Fater Belbachir said in the memo.
The strategy may also be paying off, as Citi's second quarter 2021 equity trading revenue jumped 37%, generating over $1 billion.
Equity specialists who cover event driven strategies have also been in demand recently, with both Olivetree Financial and Cowen adding to headcount in London amidst a surge in deal making activity.