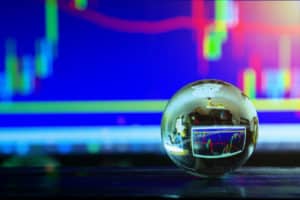 It's been an appalling year for equities, with European stocks seeing their worst performance since 2018 and the STOXX 600 down 11.7% year-to-date. The US has fared even worse, with the S&P 500 losing 19.24% in 2022, while in emerging markets, the MSCI Asia-Pacific index (ex-Japan) is also down 19% for the year and in the UK, the FTSE 250 is on track to lose 21% for 2022. The MSCI All-Country World Index is on track for its worst year since the financial crisis, down 20.68% on the year.  
A turning of the tide? 
However, despite almost inevitable recession in 2023, the tide of optimism would appear to be cautiously turning, based on the latest Wall Street predictions.  
In his 2023 outlook, JP Morgan global head of equity macro research, Dubravko Lakos-Bujas, noted: "In the first half of 2023, we expect the S&P 500 to re-test the lows of 2022 as the Fed overtightens into weaker fundamentals. This sell-off combined with disinflation, rising unemployment and declining corporate sentiment should be enough for the Fed to start signaling a pivot, pushing the S&P 500 to 4,200 by year-end 2023." 
The bank also expects the convergence between the US and international markets to continue next year, both on a USD and local currency basis. "The S&P 500 risk-reward relative to other regions remains unattractive," it said. "Continental European equities have a likely recession to negotiate and geopolitical tail risks, but the eurozone has never been this attractively priced versus the US." 
A bullish outlook
In its investment outlook for 2023, tellingly titled 'The Bull Case for Equities', JP Morgan noted that: "While we are not calling the bottom for equity markets, we do think that the risk vs. reward for equities in 2023 has improved, given the declines in 2022. With quite a lot of bad news already factored in, we think that the potential for further downside is more limited than at the start of 2022. Importantly, the probability that stocks will be higher by the end of next year has increased sufficiently to make it our base case." 
In its December 2022 equities outlook, Fidelity International also pointed out that: "Global equity markets posted back-to-back monthly gains [in November], amid modestly slowing inflation and a falling US dollar, with investors returning to stocks on hopes that policymakers will pivot sometime in 2023." 
And in a December Bloomberg News survey, 71% of respondents (including some of the world's biggest asset managers) expected equity markets to rise next year: as inflation looks to have peaked and with hopes of a shift in tone from the Fed in 2023 leading to lower rates.  

Baby steps
However, others are more cautious. In its own 2023 outlook, BlackRock warns that we may not have seen the full extent of the damage – and that either way, the 'Great Moderation' (the four-decade period of largely stable activity and inflation) is very definitely behind us. "Equity valuations don't yet reflect the damage ahead, in our view. We will turn positive on equities when we think the damage is priced or our view of market risk sentiment changes. Yet we won't see this as a prelude to another decade-long bull market in stocks and bonds," it said.  
The asset manager is staying underweight on developed market (DM) equities for now, warning that a recession is not yet priced into earnings expectations, but says that it "stands ready" to turn more positive as valuations get closer to reflecting the economic damage. "We could see market risk sentiment improve in a way that would prod us to dial up our risk appetite. But we are not there yet," said the firm.
It also currently remains in favour of bonds over stocks in the short-term: "Higher yields and strong balance sheets suggest to us investment grade credit may be better placed than equities to weather recessions," it said.

However, over the longer-term, equities are still where it's at. "We estimate the overall return of stocks will be greater than fixed-income assets over the coming decade," believes BlackRock.  

Hotspots
Looking forward and emerging markets – Asia in particular – are looking to be a key growth area.  
"Our 2023 global macro outlook paints a much less daunting picture for equity markets, despite a slower overall GDP growth profile globally than in 2022," said Jonathan Garner, chief Asia and emerging market equity strategist at Morgan Stanley, in a December podcast. "As Asia and Emerging Markets move from a year of major adjustment in 2022 towards a less daunting 2023, investors may want to change their approach for the beginning of a new bull market." 
UK equities are also at the top of the list, with a recent survey from the Association of Investment Companies citing the UK as the top investment region for 2023.