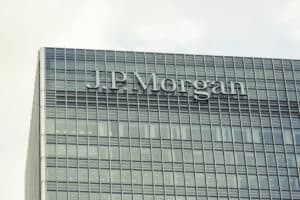 Buy-side fixed income traders and portfolio managers in Europe have said that JP Morgan was the 'standout dealer' at the height of the global COVID-19 crisis, while Goldman Sachs followed in second place.
Greenwich Associates revealed the ranking as part of research examining which dealers best stood by clients during the recent volatility across fixed income markets in Europe, according to rates and credit institutional investors.
JP Morgan topped the overall league as the 'standout dealer' for European fixed income across G10 rates and G10 credit during the crisis, while Goldman Sachs and Citi ranked second and third respectively.
Almost one in three traders and portfolio managers said that increased sales and trading contact was considered the most helpful action by dealers, which Greenwich Associates said highlights the ongoing importance of maintaining relationships during the crisis. At the same time, more than 40% said standing by bids and offers was the most helpful action dealers took throughout the period. 
"To be clear, for dealers, while this was a time of heightened trading, there was also a double whammy, given their business continuity planning had not necessarily been prepped for work-from- situations," Greenwich Associates said. "Handling operational risk while consistently offering liquidity to clients was challenging. Clearly, this will bring a renewed focus on trading workflow efficiencies and their digital landscape."
US investment banks have dominated the European fixed income space recently. JP Morgan came out as the clear winner of Greenwich Associates' 2019 European fixed income share leaders ranking, as Citi ranked second, followed by Barclays and Goldman Sachs. In comparison, the Greenwich Associates' 2018 share leaders ranking saw Barclays, Citi and JP Morgan tie for the top spot in Europe's fixed income market.
Globally, however, Citi was recently named the top fixed income dealer for the fifth year in a row by Greenwich Associates. The global ranking saw almost 3,500 institutional investors globally respond, as Citi came in top for rates and emerging markets, municipal bonds, overall quality, sales quality, trading quality, and e-trading market penetration.