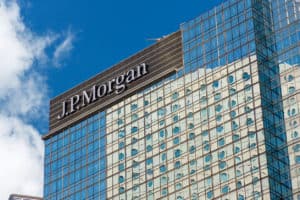 JP Morgan has appointed the former chief sustainability product officer at BNP Paribas (BNP) to head up its new Global Markets Sustainability Centre, according to an internal memo seen by The TRADE.
Neven Graillat joins JP Morgan after almost 16 years with BNP Paribas, where as chief sustainable product officer for global markets, he was responsible for building the first-ever forward-looking equity index in Australia, using dynamic climate scenarios. He also worked on BNP's "thematic focused platform," which "[aims] to deliver the right ESG theme, at the right time in a scalable and robust way."
In his new role at JP Morgan, he will be responsible for the ESG agenda across sales, trading, research and banking at the investment bank's new Global Markets Sustainability Centre, which falls under the investment bank's global structuring and solutions business.
"As we accelerate our markets' ESG agenda, Neven will help channel and manage the overwhelming global interest in this area across asset classes and client types and will develop market solutions to meet these demands," Ben Keeping, JP Morgan's head of UK, Ireland and CEEMA sales and marketing, and head of structuring and structure investments distributor marketing, stated in the internal memo.
"Neven and his team will work with stakeholders in our existing market-leading ESG and sustainability efforts across sales and marketing, trading, research, banking and other businesses within the firm to ensure we're offering markets' clients our most compelling products and services to help them to meet their ESG targets."
Graillat will report directly to co-head of global investor structuring, Rui Fernandes and Masi Yamada.
Under his leadership, BNP Paribas launched several ESG products and initiatives in the last year including its Core Satellite Indices aimed at tackling issues around "theme washing" and pricing efficiency in sustainable investments.
Global ESG investments are on track to exceed $53 trillion by 2025 according to research from Bloomberg Intelligence and this has prompted many institutions, including major buy- and sell-side firms, to ramp up their recruitment drive for ESG-focused roles.
In the last year alone, Barclays appointed a new head of global ESG research from Sanford Bernstein; Vanguard hired its first head of ESG strategy for UK and Europe from FTSE Russell; Citi appointed a new ESG markets head for North America; Bank of America selected two internal executives to head up a new EMEA ESG council and Schroders' sustainability investment director jumped ship to join Capital Group in a similar role.
However, while there have been significant moves across the street to ramp up the market's migration to more sustainable methods of investing, recent research by non-profit CDP found that only 0.5% of total global fund assets were aligned with the Paris Climate Agreement's temperature target of well below 2 degrees Celsius and to reduce the temperature increase even further to 1.5 degrees Celsius.