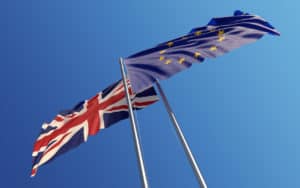 LCH achieved strong volumes across its clearing services in 2020 despite turbulence caused by the UK's extended departure from the EU.
The UK officially left the EU on 31 December following the end of the transition period and, while significant clearing volumes were expected to migrate to the EU during this period, LCH reported record volumes across its clearing service offerings.
Most impressive was the $1.1 quadrillion in notional volumes from 6.4 million trades cleared on its interest rate derivatives SwapClear service.
"As a systemically important institution, LCH's commitment to ensuring financial stability is paramount," said Daniel Maguire, LSEG group director for post-trade and chief executive at LCH. "Our focus has remained on the wellbeing of our people, ensuring operational resilience and continuity of service to our customers."
Notional volume on LCH's service for non-cleared derivatives processing, SwapAgent, also more than doubled from $0.7 trillion in 2019 to $2 trillion in 2020.
In September, SwapAgent hosted its first SONIA/SOFR cross-currency basis swap between Bank of America and Lloyds Bank Corporate Markets as part of its commitment to the industry-wide transition away from the Libor benchmark.
ForexClear's deliverable and client clearing services volumes grew to $19.1 trillion, which also expanded in its derivatives offering with the launch of non-deliverable FX options, first cleared by JP Morgan and Deutsche Bank earlier this month.
CDSClear similarly showed strong growth clearing €2.4 trillion in notional for options index and single name trades, while RepoClear processed €205.4 trillion in nominal, and a record 2 billion trade sides were cleared at EquityClear.
2020 was not just a year of high volumes for CDSClear, the service also attracted new business from several institutional firms including Bank of America and BlueCrest Capital Management.