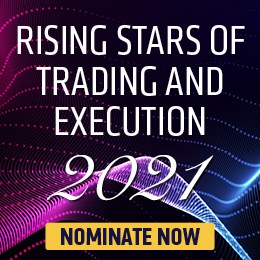 The TRADE is delighted to announce that nominations are now open for this year's Rising Stars of Trading and Execution Awards, our long-running initiative to recognise the budding buy-side talents of the institutional trading space.
Running for its seventh year, the Rising Stars initiative has recognised numerous promising talents over the years, many of whom have gone on to expanded roles such as head of trading as the world's largest asset managers and hedge funds.
Your window for submitting nominations for the industry's most aspiring buy-side talent will run until 19 October. Visit our nominations page to submit your entry of either yourself, a colleague, or an industry peer, for consideration. All nominees must currently work in a trading role with a buy-side firm. We accept nominations from all industry participants, including the buy-side, sell-side, technology vendors, exchanges, and consultants.
The recognised shortlist will be announced during a special presentation as part of The TRADE's Leaders in Trading on 4 November.
Following a successful Leaders in Trading: The Digital Experience (LiTDX) in March earlier this year, The TRADE's Leaders in Trading returns to The Savoy in London.
Find previous years' recognised shortlists here: 2020 – 2019 – 2018 – 2017 – 2016 – 2015.