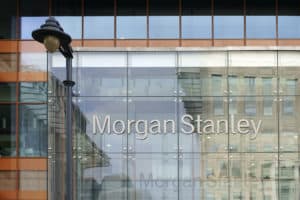 Morgan Stanley has said it will target driving its profitable market share in prime brokerage, after referring to the business as "centre of the machine" of its equity trading division.
Although Morgan Stanley's equity sales and trading net revenues were largely unchanged from a year ago in the third quarter this year, the investment bank said it retained its leadership position, with prime brokerage sales up amid total revenues of around $2 billion. 
"Prime brokerage is our biggest business," Jonathan Pruzan, CFO at Morgan Stanley, said on the third quarter earnings call. "It's the centre of the machine, if you will. We've got a really nice mix of both people and intellectual capital and technology that sort of drives the entire plan. We're number one in the globe there for about the last five years. It's a very strong and powerful business. Between cash and derivatives, that will bounce around quarter-to-quarter based on client activities, but the prime brokerage business is clearly the biggest."
Competition in prime brokerage is fierce among the largest providers, with JP Morgan recently overtaking Goldman Sachs as the second largest prime broker by revenues, according to industry monitor Coalition's prime brokerage rankings, behind Morgan Stanley who ranked top. 
At the same time, European prime brokers such as Deutsche Bank confirmed plans to pull out of electronic equities trading and prime brokerage entirely, transitioning its business to BNP Paribas. Barclays and JP Morgan also gained prime balances from Deutsche Bank under the German institution's major business restructure.
"There has obviously been a shift from the Europe into US banks in some of the prime brokerage balances, and other parts of the equities business," James Gorman, CEO of Morgan Stanley, added on the call. "We always look at business opportunity in terms of what kind of returns we can get. We're not just trying to drive share, we're trying to drive profitable share."
Earlier this month, Morgan Stanley confirmed that Ben Walker would assume sole responsibility for the management of its global prime brokerage business from January next year. Alex Ehrlich, who has co-led the business alongside Walker for almost 10 years having joined from UBS in 2009, will retire from Morgan Stanley at the end of this year.
Under Ehrlich's leadership, Morgan Stanley has been recognised as one of the highest rated prime brokers by hedge fund clients in The TRADE's sister publication Global Custodian's annual Prime Brokerage survey, and picked up awards across numerous service categories including capital introduction, financing, securities lending and technology.