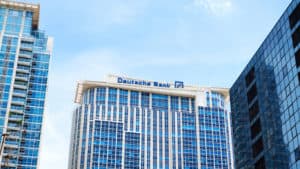 Deutsche Bank has released its Q4 2022 earnings, reporting results which exceeded expectations, with net profit the highest in 15 years.
Net revenues at the bank grew 7% year-on-year to €27.2 billion, while noninterest expenses were down 5% to €20.4 billion, resulting in the increased profit margins.
Deutsche Bank's net profit more than doubled year-on-year to €5.7 billion, the highest figure achieved since 2007.
Meanwhile, profit before tax for Q4 2022 increased more than ninefold to €775 million, up from €82 million in Q4 2021. Net revenues for the quarter also increased, up 7% year-on-year to €6.3 billion.
Net profit for Q4 2022 was €2 billion, a sharp increase from €315 million in the fourth quarter of 2021.
Deutsche Bank, however, experienced declines in investment banking and asset management, as seen in other banks' earnings reports for last year. Deutsche Bank's investment banking division had profit before tax earnings of €3.5 billion, down 6%, while its asset management division reported earnings of €598 million, down 27% year-on-year.
Revenues for the investment bank division were up, however, reaching €10 billion in 2022, an increase by 4% over 2021. Revenues in fixed income & currencies (FIC) were €8.9 billion, up 26% year-on-year and the highest for a decade.
In January last year, the bank sold its global prime brokerage and electronic equities business to BNP Paribas, as part of a deal agreed in 2019. The deal appears to have paid off for Deutsche Bank, especially given the decline in equities results seen by the majority of its peers this earnings season.
"Over the past three and a half years we have successfully transformed Deutsche Bank. By refocusing our business around core strengths we have become significantly more profitable, better balanced and more cost-efficient," said Christian Sewing, chief executive of Deutsche Bank.
"In 2022, we demonstrated this by delivering our best results for fifteen years. Thanks to disciplined execution of our strategy, we have been able to support our clients through highly challenging conditions, proving our resilience with strong risk discipline and sound capital management. As a result, we are well-equipped to deliver sustainable growth and returns to shareholders in the years ahead."
In Deutsche Bank's Q4 2022 Analyst Conference Call, Sewing added: "Most importantly, pride returned to the organisation, which in turn supports our positive momentum."