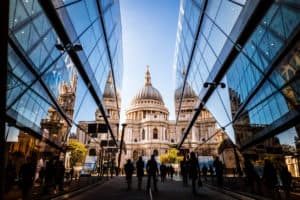 The head of dealing at Royal London Asset Management is set to leave the company this month after almost three years and become global head of trading at Ninety One, The TRADE can reveal.
Cathy Gibson will take on the newly-created role in London at Ninety One, formerly known as Investec Asset Management, in the new year, sources familiar with the matter told The TRADE. She will report to John McNab, co-CIO at Ninety One.
Confirming Gibson's departure, Royal London told The TRADE in a statement that traders Kevin Flood, Chris Hughes and David Harrison will report into chief investment officer, Piers Hillier, on an interim basis until a permanent replacement is appointed.
A spokesperson for Ninety One also confirmed Gibson's appointment. 
"I'm very pleased to welcome Cathy to Ninety One in the new year," McNab commented. "Her extensive fixed income and multi-asset experience will be invaluable as we grow Ninety One's trading platform in line with our global ambitions, giving our clients the best possible execution and investment outcome."
Gibson departs Royal London after joining in February 2018 to head up a newly created centralised dealing desk covering all asset classes, although primarily equities and fixed income.
Prior to Royal London, she spent just over two years with Deutsche Asset Management where she was head of fixed income trading. Gibson began her career as a centralised dealer at the Bank of Ireland Asset Management and also spent over four years with Pioneer Investments as a senior fixed income trader.
Speaking to The TRADE in July last year, Gibson outlined that diversifying the dealing desk at Royal London in terms of both gender and skillset was a priority as she first took on the role.
In 2016, Gibson was recognised as a 'Rising Star' under The TRADE's Rising Stars of Trading and Execution initiative and last year was awarded buy-side long only trader of the year at The TRADE's Leaders in Trading 2019 awards ceremony following an industry-wide vote.
South Africa and London headquartered Ninety One was formerly known as Investec Asset Management, but underwent a major rebrand following the company's demerger from Investec Group in March 2020, when it listed on the London and Johannesburg stock exchanges.