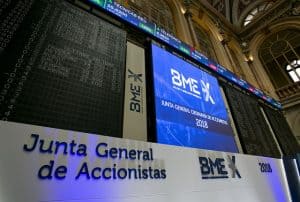 Exchange groups SIX and Euronext have both confirmed interest in acquiring Spanish stock exchange Bolsas y Mercados Españoles (BME) in the latest bout of consolidation among trading venues.
SIX Group said in a statement that it intends to make an all-cash offer for 100% of the share capital of BME for €2.84 billion, and it has filed with regulators in Spain to kick-start the authorisation process for the deal.
"A combination with BME will bring direct and immediate benefits to the stakeholders of both our institutions, at a time when consolidation in global financial markets infrastructure is accelerating. This is in line with SIX's growth strategy and our commitment to serve customers with highly reliable infrastructure services and seamless access to capital markets," Romeo Lacher, chairman of the SIX board, commented on the offer.
At the same time, Paris-based Euronext confirmed in a separate statement, in response to press speculation, that it is also in talks to acquire BME. Euronext is in discussion with the board of directors of BME, which may lead to a counter offer being made. The exchange added it will make further announcement on the talks with BME when appropriate. 
In response to SIX Group's intention to make an offer, BME said that the €2.8 billion bid "may reasonably reflect the current value" of the businesses managed by the stock exchange. In particular, BME noted several commitments SIX has made to guarantee the deal and integrity of the exchange operator, including plans to grow BME's platform and maintain the brands and current activities, locations and strategy of BME.
"The board of directors has qualified the offer and the transaction as amicable, provided that the board reserves its final opinion until the time it becomes aware of all its terms and conditions, and in particular until the time in which it can value to its full extent the consequences that the industrial plan proposed by SIX would have for the integrity and stability of the Spanish markets and infrastructures managed by BME," Luis María Cazorla Prieto, general secretary and secretary to the board at BME, stated.
Euronext engaged in a lengthy battle with Nasdaq earlier this year to purchase Norwegian stock exchange Oslo Børs. Following various counter bids and offers from both sides, Nasdaq eventually withdrew its bid allowing Euronext to acquire the stock exchange for around €625 million.
Elsewhere, the London Stock Exchange Group (LSEG) is in the process of acquiring Refinitiv for $27 billion. LSEG confirmed plans to acquire the data and analytics giant in August, but was approached by Hong Kong Exchanges and Clearing (HKEX) shortly after with a £32 billion offer to merge the two exchange operators. HKEX eventually dropped its pursuit, and LSEG is moving forward with its acquisition of Refinitiv.