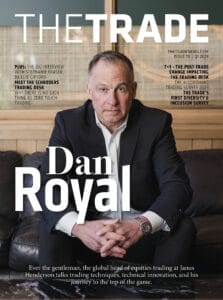 The first quarter of 2023 has set the markets up for what looks set to be another eventful and volatile year following some major regulatory milestones and the still unfolding banking crisis.
This issue of The TRADE Magazine explores all areas of the markets including an in depth look at the shift to T+1 settlement and whether zero touch trading can really exist. It boasts three buy-side interviews with Janus Henderson's Dan Royal, Baillie Gifford's Stephanie Fraser and with the Schroders European equities desk.
For the first time ever, this issue also brings you results from The TRADE's first Diversity & Inclusion Survey as well as our annual Algorithmic Trading Survey!
Take a below for more detail on Q1 content:
Buy-side cover interview – Dan Royal: Trading royalty
Dan Royal, global head of equities trading at Janus Henderson, sits down with Laurie McAughtry to talk trading techniques, technical innovation, and his journey to the top of the game.
The TRADE's first Diversity & Inclusion Survey
The results, taken from a survey of over 100 buy-side, sell-side firms and trading venues, show that while many firms do have a policy in place, there are still significant gaps in benchmarking progress, while most firms have a notable imbalance of gender and ethnic diversity in senior roles.
The Big Interview – Stephanie Fraser: Moving markets with Baillie Gifford
Stephanie Fraser, senior trader at Baillie Gifford, has trading in her blood. Working on her father's market stall from the age of five, she grew up in the business; before switching to bond markets at the age of 18 and making her way in the world of finance. She sits down with Laurie McAughtry to discuss directional liquidity scores, direct execution connectivity… and setting up a brand-new desk in New York.
Meet the desk – Schroders on European equities: Attention to detail is essential
Now with over £737 billion in assets under management across the Group, Annabel Smith sits down with the Schroders traders who are making equities pay from behind closed doors.
In depth – There is no such thing as zero touch trading
You might be cruising on autopilot for most of the flight, but when there's turbulence you want a pilot to take over, writes Annabel Smith.
JSE SA Trade Connect set in beautiful Cape Town
Senior reporter Annabel Smith summarises the day's events after travelling to the heart of South Africa for the JSE SA Trade Connect conference, where the beach meets equities trading market infrastructure.
In depth – T+1 settlement: The seismic post-trade change impacting the trading desk
With the US confirming its shift to T+1 settlement in 2024, Wesley Bray looks at the impact this will have globally, whether or not the UK and EU should follow suit and how trading desks will be impacted by the move.
The TRADE's Algorithmic Trading Survey 2023: Heightened volatility leaves buy-side demanding more from their algo providers
The long-only results of The TRADE's 2023 Algorithmic Trading Survey saw ratings decrease, marking an end to the past years of consistent increases. A frustrating and challenging year is reflected in the decrease in ratings, which left buy-traders expecting more.
Blog – 2023: The year of transparency for fixed income?
Geoffroy Vander Linden, country head for MarketAxess Netherlands, writes exclusively for The TRADE on what we can expect for the bond markets in 2023.

Read the full issue here.