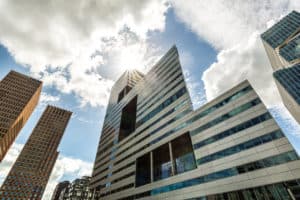 The London Stock Exchange Group (LSEG) appointed Dmitri Sedov as the new group head of its global data platform. He joined LSEG from Nasdaq, where he spent two years in New York as chief product officer for Investment Intelligence. Previously, he held the role of chief product and marketing officer for Preqin Solutions (formerly Baxon). Sedov spent the bulk of his career at S&P Global in New York, joining in 2006 as head of market development for sovereign ratings. In 2009, he was promoted to global head of digital marketing, and in 2014 moved to a new role as global head of product. From 2016-17 he served as global head of innovation, focusing on commercial ESG strategy and developing initiatives and commercial projects across sustainability, energy, infrastructure, cyber risk and fintech; before leaving in December 2017 to found and fundraise for fintech start-up ESGINE, an AI-enhanced platform for banks and private equity to automate ESG compliance and reporting. 
Citi promoted Vandana Bhatter as its new head of markets for ASEAN. Bhatter will be responsible for leading and driving a fully integrated business strategy, monetising Citi's local market network and strengthening connectivity both within Asian markets, and with the bank's other institutional client group businesses. She will also retain her current responsibilities as ASEAN corporate sales and solutions (CSS) head for markets. Bhatter first joined Citi in India as a markets management associate in 2001. After stints with the Singapore FX options structuring team and Citi Korea markets team, she returned to India to run the CSS India solutions business focusing on Citi Commercial Bank (CCB) clients. In 2009, she moved to Singapore to manage the Investor FX business and currently runs ASEAN CSS. 
UBS appointed Michael Hendrie as head of global markets for Australia and New Zealand, according to a Bloomberg report. Hendrie will align the bank's regional equities and fixed income businesses into a single global markets group, in line with the bank's wider organisational structure. Currently the head of global markets foreign-exchange, rates and credit for Australia and New Zealand as well as co-head of fixed income for the region, Hendrie joined UBS in 1994.  
Matthew Campbell, currently the head of UBS' global AUD/NZD rates trading team, was also promoted to become head of derivatives and solutions for Australia and New Zealand, according to an internal memo seen by Bloomberg, and will carry out his new duties in addition to his current role. Campbell joined UBS in 2009 from Macquarie Group.
Louissa Oakes, the longstanding head of trading at London-based Waverton Investment Management, departed after 14 years with the firm to take up a new role as a European equity trader with the Canada Pension Plan Investment Board (CPP Investments). Oakes started her career as a European equity sales trader with Merrill Lynch back in 2003, before moving to JP Morgan as an equity trader in 2006 and then switching to the buy-side a couple of years later to join Waverton.  
Fintech pioneer GTN appointed Eric Krueger as chief executive officer for GTN Americas. Krueger brings more than 25 years' experience in cross-asset trading for both institutional and retail clients to the role. He joined GTN from Saxo Bank, where he served as global head of digital engagement and client services. Prior to that, he held various equity leadership roles in the US and Europe at Barclays and Merrill Lynch. At Barclays, Krueger most recently served as managing director, head of EMEA cash equities distribution, where he helped build the firm's equity business in Europe. While at Merrill Lynch, his most recent role was head of equity program and electronic sales trading.