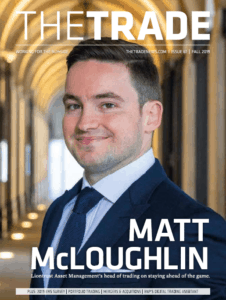 The latest issue of The TRADE is now available to read online,  so now you've had time to adjust to being back at work and dropped the kids off at school, dive into all the best content from the Autumn 2018 issue:
Buy-side cover interview – Matt McLoughlin, head of trading at Liontrust Asset Management, talks about the firm's move to multi-asset trading, the importance of 'softer' trading skills and how change creates opportunities for those ready to take advantage.
The big interview – Rob Mackay, who took on the role of CEO at Itiviti in April, talks to The TRADE about last year's merger with Ullink, the firm's ongoing work with Bloomberg, and why the enterprise vendor space is failing on legacy technology.
Buy-side interview – Stefanie Holtze-Jen, chief currency strategist at DWS Group, talks to Nikki Tavendale about the need for greater diversity in the FX markets and how this will help further the revolution in data analytics.
Timeline: Deutsche Bank's prime brokerage & electronic equities – The TRADE highlights some of the key inflection points for Deutsche Bank's prime brokerage and electronic equities businesses that have been casualties of the German institution's severe cost-cutting measures.
How to deal with a billion-dollar credit portfolio trade – Following the launch of the first portfolio trading protocol in credit from Tradeweb earlier this year, Hayley McDowell breaks down how these complex transactions are executed and examines the rise of portfolio trading in credit markets.
BNP Paribas gives FX algos a voice with launch of 'ALiX' digital trading assistant – BNP Paribas takes a leaf out of Silicon Valley's book with a Siri-style digital trading assistant, which is launching alongside real-time market analytics and interactive algorithms as part of major upgrade to the bank's Cortex FX trading platform, writes Hayley McDowell.
The Trade's (Unofficial) M&A Awards 2019 – The TRADE reviews the mergers and takeovers that have caused a stir in the industry. The Unofficial M&A Awards return for a second year, as consolidation in the exchange space raises more than a few eyebrows and investment in FinTech has never been hotter.
The 2019 Execution Management Systems Survey – The 2019 edition of The TRADE's Execution Management Systems survey finds the space in rude health as execution quality continues to increase.