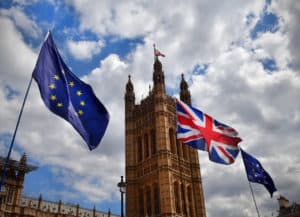 Brussels has set out plans to consult on a potential extension of its current equivalence decision for UK clearinghouses, allowing European banks to clear trades through them for another three years.
Speaking at an ECOFIN meeting in Brussels on Tuesday, European commissioner for financial services, Mairead McGuinness, told ministers that the Commission plans to propose an extension of its temporary equivalence to avoid any "short-term cliff-edge effects".
"We are now consulting member states on this draft equivalence decision, which will take the form of an implementing act. We envisage to propose an extension of the equivalence decision of three years – until end June 2025," said McGuiness.
The development follows an announcement from the commissioner in November last year confirming her intention to propose an extension.
UK clearing houses were originally granted an 18-month temporary equivalence decision in September 2020, due to expire this June, primarily as a grace period that would allow for EU institutions to reduce their reliance on them without too much impact.
However, a recent report by the European securities regulator recommended that the London Stock Exchange Group's (LSEG) clearing house LCH SwapClear service and the credit default swaps (CDS) and short-term interest rate derivatives services provided by ICE Clear Europe should maintain their recognition status on a permanent basis.
ESMA found that they had the ability to pose potential financial stability risk to the EU because of their dominant market share in certain EU currency denominated products that had created a level of dependency on their services.
"In the coming weeks, we will also launch a public consultation on measures to make the EU an attractive clearing hub and on the supervisory arrangement for EU CCPs. This public consultation will feed into a strategy on clearing to reduce in the medium term our overreliance on UK CCPs," said a European Commission spokesperson.