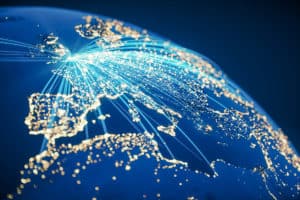 CME Group has expanded its central limit order book for trading spreads between OTC FX spot and CME FX futures with messaging services from Refinitiv and IHS Markit.
Traders using CME's FX Link platform can now receive OTC spot FX messages directly through Refinitiv Trade Notification and IHS Markit's MarkitSERV system as part of the integration.
FX Link allows clients to manage various FX swaps and basis trading. It is an automated and anonymous connection between CME FX futures and the OTC FX marketplace. It allows for electronic trading in OTC spot FX transactions and CME FX futures contracts via a spread trade on the exchange's Globex trading platform.
Several banks, including US investment bank Goldman Sachs, are already using the expanded FX Link platform for price discovery and to access additional liquidity for FX swaps in eight currency pairs after CME completed the integration with Refinitiv and IHS Markit in March.
"We are excited to have access to FX Link as a marketplace for capital efficient FX swap trading, and the ability to use RTN for the spot leg messaging has enabled us to easily on-board and to keep the messaging consistent with other ECNs," Jan Scheffel, co-head of global short term macro trading at Goldman Sachs, commented.
This is the second partnership between CME Group and IHS Markit so far this year after both firms confirmed plans to launch a new post-trade joint venture for the OTC markets. The joint entity will combine the services from MarkitSERV and CME Group's optimisation businesses Traiana, TriOptima, and Reset.
"We recognise how important automation and ease of connectivity is for our customers, and we continue to invest in enhancements to provide flexible access to the growing FX Link marketplace," added Paul Houston, global head of FX products at CME Group.
"By integrating with RTN and MarkitSERV, a larger group of market participants are able to use FX Link, a cleared and capital efficient pool of firm liquidity for FX swaps."