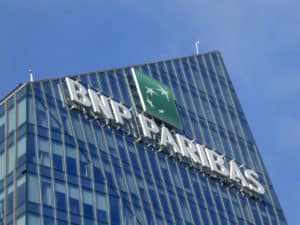 BNP Paribas has said it will likely incur costs of €100 million throughout the year due to restructuring its prime brokerage business following a landmark deal with Deutsche Bank.
The French investment bank confirmed in its full-year 2019 earnings report that the bulk of its restructuring costs will focus on the prime brokerage division, while the agreement to take on Deutsche Bank's electronic equities and prime brokerage clients enters the early stage of the transaction period.   
"If you look at the adaptation or restructuring costs that we have, you typically always have some of those related on the transactions that you do," Lars Machenil, finance chief at BNP Paribas, said. "It can be relating to mergers, it can be related to software. It can be related to several things, so we do not give more guidance. But it is part of the overall costs of the integration that we had foreseen."
Deutsche Bank agreed the deal in principle in July to shift its prime brokerage and electronic equities clients to BNP Paribas as part of a major restructure, which includes the loss of around 18,000 jobs and a targeted reduction in adjusted costs of around €6 billion by 2022. Both investment banks confirmed in November the deal is unconditional after regulators gave both institutions the go-ahead for the transition.
"On the Deutsche Bank transaction, we're proceeding very swiftly," Jean-Laurent Bonnafé, group chief executive at BNP Paribas, added on the earnings call. "We're very much in line with the original plan and balances are slightly moving up, so we're on track."
BNP Paribas has previously estimated that it will take more than a year to complete the transition of Deutsche Bank's clients, and it expects to gain around €400 million in additional revenues from the transition once it is completed. UK investment bank Barclays also confirmed in August that it gained around $20 billion in prime balances from Deutsche Bank, while JP Morgan also reportedly took on several high-profile hedge fund clients from the German institution.   
According to BNP Paribas' full-year 2019 earnings, equity and prime services revenues were flat year-on-year, but surged 115% in the fourth quarter of 2018 from €145 million to €520 million in the same period of 2019. BNP Paribas said the sharp rebound was due to extreme market movements and loss on index derivatives hedging in the US at the end of 2018.