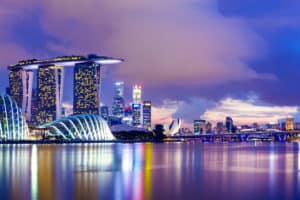 Deutsche Bank has gone live with trading on its newly launched electronic foreign exchange pricing and trading hub based in Singapore.
The bank announced the launch of the hub in June last year with the aim of allowing its clients to execute foreign exchange transactions faster by aligning them more closely with the geographic location as opposed to waiting for prices to be matched in London, New York or Tokyo where there is still a significant time lag.
It came as part of an ongoing scheme by the Monetary Authority of Singapore (MAS) aimed at attracting new business by encouraging them to establish local trading systems in the region in a bid to make it a global financial trading hub.
Deutsche Bank joined a growing list of major sell-side institutions to confirm they'd be setting up in the region including Barclays, Goldman Sachs, Citi, UBS, BNP Paribas, JP Morgan, Macquarie, Optiver, Northern Trust, XTX Markets, Jump Trading and Nomura.
"Asia Pacific is a prime example of the ongoing decentralisation that is happening in the FX marketplace globally. We've set out to create a low latency trading environment so that our clients can benefit from localised price distribution and consumption, leading to improved execution results and performance of roughly 90 milliseconds, for clients in Singapore," said Lee Merchant, head of Asia-Pacific G10 FX at Deutsche Bank.
"The investment in our platform in Singapore significantly enhances Deutsche Bank's market-leading electronic FX offering, and nicely complements our other global FX trading hubs in New York, London, and Tokyo."