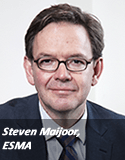 European regulators are set to take a harsher stance on the quality of data submitted to trade repositories (TRs) a year after the requirements came into force.
Part of the clamp down will include on-site inspections of the TRs and individual reviews throughout 2015.
The first year of trade reporting has been defined largely by the troubles participants have faced in completing more than 80 fields along with low matching rates across trade repositories. 
The European Securities and Markets Authority (ESMA) has identified these problems surrounding data quality and said it will continue to tackle the issues going into 2015.
"The emphasis in 2015 for ESMA and the EU national regulators will be the improvement of the quality of data reported to the registered TRs and there are several initiatives already in place," said Steven Maijoor, ESMA chair. 
"ESA will continue to exercise its direct supervisory powers in 2015 through on-going supervision and investigations as well as through complaints handling and enforcement work."
The initial months of trade reporting left many in the market scratching their heads as they had to comply with the guidance of a simple Q&A from the European regulator.
While the process became clearer as the year went on, requirements for the reporting of collateral and valuations came into force in August with data quality measures being rolled out in December. The measure meant that the trade repositories would reject incorrect reports.
Maijoor did describe trade repositories as being "useful for market surveillance and transparency" despite describing the first year as a "period full of challenges".
According to ESMA's report into the first year of reporting, almost 10 billion reports have been received and processed by the six registered repositories, while the number of entities with direct reporting agreements is now at nearly 5,000.
Going forward ESMA will also have to align reporting under the European Markets Infrastructure Regulation (EMIR) with MiFID II reporting mandates.
"ESMA has a lot of coordination work to do around technical standards to ensure that EMIR is on the same page as MIFIR and REMIT reporting," said Virginie O'Shea, senior analyst, Aite Group.
"Given that ARMs [Approved Reporting Mechanisms] will be able to act as TRs and vice versa - it is likely that the reporting process will be a lot more crowded in the next 12 months and beyond - provided MiFIR isn't delayed again."