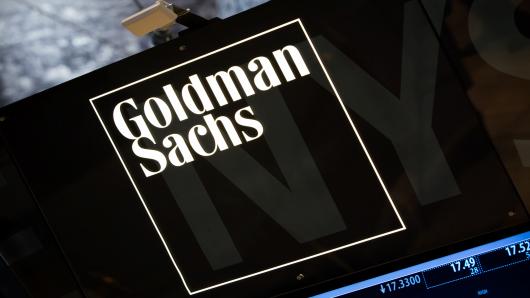 Major investment banks in the US had a difficult end to the year with fixed income taking the brunt of trading declines, none more so than Goldman Sachs.
JP Morgan, Morgan Stanley, Citigroup, Bank of America and Goldman Sachs reported a downturn in trading profits due to seemingly unrelenting low market volatility and client activity.
Goldman Sachs saw its fixed income, currency and commodities (FICC) revenues plummet 50% in the fourth quarter of 2017 compared to the same period in 2016. 
Marty Chavez, CFO at Goldman Sachs, told investors on its quarterly earnings call a pull back in trading requires increased volatility, client activity, market events and central bank actions.
"Generally, when we outline the growth initiatives, we said they do not depend on any change in the market environment," he said. "Where the market backdrop which is challenging across the industry continues to deteriorate, of course, we would revisit all of those aspects of the business."
Morgan Stanley saw the second biggest quarterly drop in bond trading revenues in the fourth quarter, down 46% year-on-year. Once again, low volatility and client activity were listed as reasons for lower revenues across the bank's fixed income business.
James Gorman, CEO at the investment bank, said on its earnings call that despite the decrease in its fixed income results for the period last year, the business managed to maintain its revenue footprint with less resources following a restructure in 2015.
"We're not trying to make fixed income a $3 billion a quarter business. So we're not going to be disappointed when it's not, and what we wanted was it to be on average," he added.   
At JP Morgan, bond trading reported a 34% dip in revenues in the fourth quarter of 2017 compared to the same period the year before.
Much like Goldman Sachs and Morgan Stanley, chief financial officer at JP Morgan, Marianne Lake, pointed to low volatility when discussing the fixed income woes. She added the firm looks at its fixed income business in terms of discipline, scale and optionality.
"Although I don't have a crystal ball, I can't tell you when there will be a catalyst for change. Fixed income is a little on the counter-cyclical side. There will be change and we're positioned to continue to be able to grow with our clients," Lake said.
Citigroup and Bank of America followed its rivals with bond trading sales down 18% and 13% respectively in the fourth quarter of 2017.
Citi ranked first in consultancy Greenwich Associates' annual fixed income market share rankings for 2016 in both rates and credit, followed by JP Morgan and Goldman Sachs in joint second place.
The US investment bank was also recognised for global fixed income service, sales and overall trading quality within the rankings, beating all of its competitors for the year.