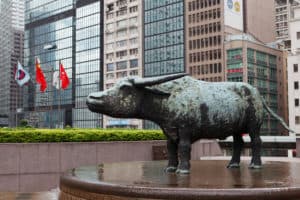 HKEX has appointed John Buckley and Wilfred Yiu to replace retiring president and chief operating officer, Calvin Tai, when he steps down at the end of this month.
Tai originally joined HKFE in 1998 and during his tenure has served in several roles including as its head of clearing, co-head of equities and FIC division and as head of its trading division.
He assumed the role of interim chief executive in September 2020 after long-standing chief executive Charles Li retired early.
"Calvin has been a highly valued member of the HKEX leadership team over many years," said chief executive officer at HKEX, Nicolas Aguzin.
"We would like to extend our sincere and deep gratitude for his dedication and passion in the development of HKEX and Hong Kong's markets over the last two and half decades. On behalf of all our colleagues, I would like to thank Calvin for his many contributions and wish him a very happy retirement."
Buckley and Yiu, current of exchange operations and transformation and co-head of markets, will assume the role of co-chief operating officers on 1 June. Both will maintain their current roles and responsibilities alongside their new one. Yiu will also replace Tai as chief executive of the Stock Exchange of Hong Kong (SEHK) and Hong Kong Futures Exchange (HKFE).
Buckley joined HKEX in December last year from Citadel where he had been its chief operating officer for Asia for three years. Yiu joined HKEX as its head of markets in 2019 having previously operated at Goldman Sachs, and Beijing Gao Hua Securities.