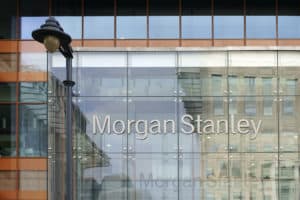 Morgan Stanley has come first in a ranking of the top US institutional equities brokers by commissions, beating rivals JP Morgan, Bank of America Merrill Lynch and Goldman Sachs.
TABB Group drew up the league table following a poll of 92 heads of trading at buy-side firms earlier this year to score brokers on various categories, including commissions allocation, algorithmic trading, high- and low-touch coverage, execution consulting, transaction analytics and capital.
Morgan Stanley led the league table in terms of commissions, followed by JP Morgan, Bank of America Merrill Lynch, Credit Suisse and then Goldman Sachs for the top five brokers list. Although Morgan Stanley took the top spot, JP Morgan led the commissions ranking for servicing larger asset managers with more than $150 billion in assets under management.
"It's critical for brokers to understand where they sit in the eyes of their clients, that the buy-sides' largest brokers receive by far the largest percentage of flow. The implications are far greater for hedge funds as their top broker tends to be their prime," said Larry Tabb, co-author of the report and founder of TABB Group.
The survey also found that although commissions are a critical component in broker allocation, asset managers ranked algorithms as the main reason they allocate flow to a broker. For algorithms, the heads of trading ranked the combined Virtu and ITG company as top, but when Virtu and ITG are considered separately, funds agree that JP Morgan is the top algo provider, followed by UBS and Sanford Bernstein.  
A separate report from TABB Group earlier this month said that US commissions are plummeting in light of a shift towards passive investing, and the unbundling of research and execution under MiFID II. Despite MiFID II not being directly enforced in the US, larger institutions have opted to separate research and execution commissions, leading to a decline in the US commission pool of 42% since 2015, and 27% since 2017.