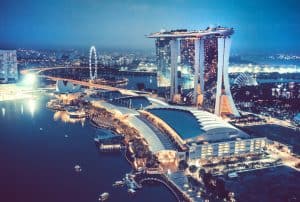 Singapore Exchange (SGX) has said it will launch 10 Singapore single stock futures later this month amid increased client demand for Singapore-linked equities.
The launch follows news earlier this month that SGX will reduce its licensing agreement with MSCI from February 2021, while Hong Kong Exchanges and Clearing (HKEX) plans to expand its MSCI derivatives suite with the launch of 37 futures and options through a new agreement.
SGX said that the launch of its single stock futures represents a natural step in the growth of the ecosystem, and provides market participants with new risk management instruments.
"We integrated our cash equities and equity derivatives businesses a year ago, to form a single expanded platform capable of scaling product and service innovation for our clients," said Michael Syn, head of equities at SGX. "Our Singapore franchise is at the heart of SGX's pan-Asian access offering and with these latest developments, we are well on track to broaden the continuum of our equities shelf."
The securities underlying the futures contracts include Comfortdelgro, DBS, Genting, Keppel, OCBC, Singtel, Thai Beverage, UOB, Wilmar and Yangzijiang Shipbuilding. Many of these are also SGX MSCI Singapore Free Index (SiMSCI) stocks.
SGX added in recent months index trading activities between its cash equities market and SiMSCI futures reached record highs of nearly S$650 million in a single day. The exchange also noted correlation between the price of futures and the underlying stocks across intraday timeframes, highlighting increased institutional participation across both markets.
Alongside the Singapore single stock futures, SGX signed a license agreement for four products on MSCI Singapore indices, including SiMSCI futures and options and net total return contracts. MSCI Singapore futures and options will remain listed on SGX despite the move to reduce the licensing agreement with MSCI.