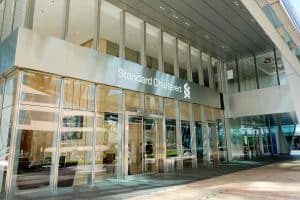 Standard Chartered has made its prime brokerage and executing broking businesses live on the post-trade and blockchain technology platform, Cobalt.
In using one platform for both its prime brokerage and executing broking businesses, the bank said it was hoping to minimise operational risk and cost.
Cobalt provides foreign exchange post-trade and blockchain infrastructure based on shared ledger technology that allows users to create a single version of a trade and check credit in real-time to reduce credit and risk, as well as, cutting operational costs.

Standard Chartered and Cobalt have been in business since February last year when Standard Chartered became a client of the platform's shared ledger technology, joining other major institutions including Citi, Sucden Financial, Saxo Bank, Deutsche Bank, and XTX Markets.
The bank then reaffirmed the partnership with an investment that took place in the following July, joining Citi who also made a strategic investment in the platform in 2016. Terms of the investment were not disclosed.
"This past year has shown that the need for fully automated solutions is essential. Institutions have been hampered by antiquated services across their middle office for some time now and they are beginning to wake up to the realisation of the time and cost burden this represents," said Andy Coyne, chief product officer and co-founder of Cobalt.
"Since signing as a client in February 2020, Standard Chartered's presence in the Cobalt network has been of great value to our business both as a client and an investor. With them now live on the platform for both prime brokerage and executing brokerage business, this demonstrates the versatility of Cobalt's platform and how it can be applied for all market participants. As we enter the next stage of Cobalt's investment and product journey, we look forward to having an institution of Standard Chartered size as key proponent of our system."