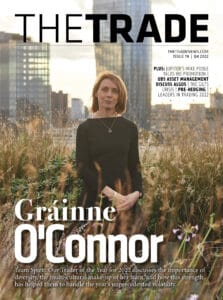 The final quarter of 2022 brought an end to one of the most volatile years the markets have ever seen after generating swathes of  – unprecedented, for the want of a better word – circumstances for traders to navigate.
This issue of The TRADE Magazine touches on some of the major events to rock the industry in 2022: including the controversial September mini budget and an in-depth look at the digital assets landscape following the fallout of FTX and Sam Bankman-Fried (SBF).
This latest issue also includes not one but three buy-side interviews: including UBS' head of UK equity trading, Stuart Lawrence; Jupiter's newly appointed head of trading, Mike Poole; and a cover interview with Fidelity senior equities trader and our recently crowned Trader of the Year, Gráinne O'Connor, meaning this Winter edition is packed with buy-side insights straight from the trading desk.
The TRADE's Leaders in Trading event returned to The Savoy with a bang again in November and this winter edition lays out the highlights of this year's glittering event. And finally, in keeping with TRADE tradition with 2022 coming to a close, this edition includes our annual Crystal Ball, featuring insights and predictions from across the industry on what the next 12 months might bring… hold on to your hats!
Take a look below for more detail on Q4 content:
14 The Big Interview: Mike Poole has good manners
Jupiter's new head of trading tells Laurie McAughtry why execution trumps automation, why relationships are top priority… and why he minds his Ps and Qs when it comes to trading etiquette.
24 The digital asset dilemma: How to overcome barriers to institutional involvement 
On 1 December, The TRADE held a closed-door round-table to discuss the most pressing issues within the institutional investment space for digital assets. A timely occasion, the conversation ranged far and wide – read on to discover where this winding road could take us next.
36 Buy-side cover interview: Meet Gráinne O'Connor
Our Trader of the Year 2022 tells Laurie McAughtry that for her, it's all about communication, education and motivation – and the next generation will lead the way.
48 In depth: A shifting prime brokerage landscape
A tumultuous two years for the prime brokerage space has seen exits, scandals and a renewed approach to risk management which has truly shaken up the industry. But don't think for a second primes are struggling, as opportunity beckons for those willing to invest and appeal to funds with market share up for grabs, writes Jonathan Watkins.
60 Buy-side interview: In conversation with… Stuart Lawrence
Stuart Lawrence, head of UK equity trading at The TRADE's 2022 winner of Trading Desk of the Year, UBS Asset Management, deep dives into navigating current market conditions and the shifting regulatory and market structure landscape.
64 Market review: The impact of the September 2022 UK mini-budget
Following the market chaos created this year by the UK mini-budget and ensuing fixed income chaos, which saw gilt prices go into free-fall and serious concerns arise around the safety of UK pensions and long-term investments, Wesley Bray explores the impact.
68 Rising Stars of Trading and Execution 2022
The TRADE's Rising Stars of Trading and Execution returned for its eighth year, recognising 20 up-and-coming talents in buy-side trading.
80 A glittering evening
On 2 November, the industry gathered together at The Savoy Hotel in London for a sparkling night of celebration at the Leaders in Trading Awards 2022.
84 The TRADE's Crystal Ball 2023
Gaze into our annual crystal ball with predictions from industry experts on what to expect in 2023 across the buy-side, sell-side, market structure, regulation, technology and more.
94 Blog: ESMA's latest shot at 'pre-hedging' must now bring a clear set of rules
John Keogh, managing director at Susquehanna International Securities (SIG), makes the case for banning the controversial practice, in the wake of ESMA's latest request for industry input.

Read the full issue here.