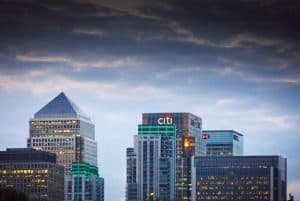 Blockchain technology provider Axoni has launched a distributed ledger network to manage equity swap transactions, with the first live data processed between US banks Citi and Goldman Sachs.
The multi-year initiative, which Axoni said included input from 15 major buy- and sell-side firms, has produced a distributed ledger infrastructure that allows both sides of an equity swap trade to be synchronised throughout the transaction lifecycle to communicate changes with each other in real-time.
Equity swaps are generally traded directly between counterparties, with each counterparty maintaining its own books and records representing the initial trade terms and changes throughout the trade lifecycle. Axoni said data breaks between counterparties can be frequent, leading to increased operational costs to manually reconcile records against each other.
Launched in 2013, Axoni has gained major backing from large institutions for its work focused on distributed ledger technology. HSBC, JP Morgan, NEX Group, Franklin Templeton Investments, Wells Fargo, as well as Citi and Goldman Sachs, have all invested in the company in the past couple of years. 
"Goldman Sachs continues to embrace new technology solutions which enhance our front-to-back client experience and deliver operational efficiencies," said Brian Steele, global head of market solutions at Goldman Sachs. "We are excited to be working with innovative tech companies like Axoni, and our industry partners, to develop post-trade solutions which automate business processes and synchronise data on common infrastructure."
The participating firms also collaborated to create and implement a standardised representation of equity swaps throughout their lifecycle with initial trade confirmation, cash flows, amendments and corporate actions. 
"This is a significant milestone which reinforces our commitment to embracing technology to solve real challenges faced by the industry," Puneet Singhvi, head of financial market infrastructure and lead for blockchain, distributed ledger technology and digital assets at Citi, added. "The platform, using smart contracts, will enable significant efficiencies while mitigating risks in post trade processing of equity swaps."
Earlier this month, Citi made moves to centralise and automate its foreign exchange post-trade processes by expanding its partnership with shared ledger technology specialist Cobalt. Citi said it will use Cobalt's FX infrastructure based on shared ledger and advanced technology for bilateral trading, to create a standardised record of all trades that clients can manage from a single platform.