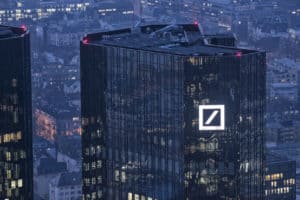 Deutsche Bank has said that it has become the top foreign investment bank by trading volumes for China's cross-border trading and settlement link, Bond Connect.
The German investment bank said that in July, offshore institutions net purchased bonds for $8.8 billion, or around 62 billion renminbi, and foreign investors now hold 2.25% of onshore bonds. Deutsche Bank added that it has made efforts to promote the China onshore bond market to investors, which it hopes to continue to build on.
"We have actively marketed the China onshore bond market to foreign institutional investors, promoting this year's global index inclusion and our onshore capabilities to help global investors access this enormous market," Jerry Li, head of Greater China Local Markets, commented. "Ranking No. 1 for onshore bond trading volumes shows we have achieved significant momentum in renminbi markets, which we will continue to build on."
The Bond Connect scheme was established two years ago by the China Foreign Exchange Trade System (CFTS), the National Interbank Funding Centre (CFETS) and Hong Kong Exchanges and Clearing (HKEX). The initiative aims to allow overseas funds to buy onshore bonds through Hong Kong in a bid to boost the economy and the city's status as a global financial centre.
Deutsche Bank stated that in July, just under 100 new accounts have been added, bringing the total number of foreign institutional investors to 1,134 as of the end of the month. The institution expects foreign trading via Bond Connect to continue to rise.
"We expect foreign inflows into renminbi-denominated bonds to continue to rise in the coming months on the back of further renminbi bond index inclusion decisions and continued opening up measurements. Our analysts forecast an additional $120 billion to flow into onshore bonds in the next few years," Li concluded.
Deutsche Bank is currently undergoing a major restructure which will see the loss of around 18,000 full-time jobs and a reduction in costs of around €6 billion by 2022.
Deutsche Bank is also in the process of transitioning $160 billion prime brokerage balances to BNP Paribas and has decided to shut down its electronic equities trading business. BNP Paribas said the transition will likely complete by summer next year. Barclays has also gained around $20 billion in prime brokerage balances from Deutsche Bank.