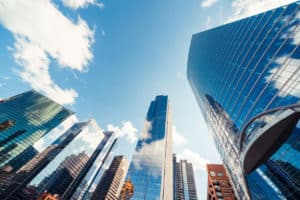 Last week was a busy one for talent moves, with a whole clutch of new hires across the spectrum.
Bernstein Research took the bold step of bolstering its new ECM practice with the appointment of global co-heads of the division. The research arm of Alliance Bernstein has appointed Jonathan C. Biele and Alastair Walmsley to head up its newly launched practice, based in the US and the UK respectively. It's a strong move, given that equity capital markets (ECM) revenues have plunged 75% in Europe (to $21.4bn) and 87% in the US ($29.9bn) so far this year (according to data by Dealogic), but the firm seems confident that it has the wherewithal to make waves.
Digital asset platform Copper hired several prime brokerage specialists from Bank of America Merrill Lynch (BAML) to fuel its own rapid expansion. The move forms part of a growing trend which has seen numerous senior figures entering the crypto space from the conventional markets. Michael Roberts, who served as managing director and EMEA head of BAML's prime platform, will lead the unit at Copper. He will be joined by Ben Carr and Ross Budgen who add expertise in product development, account management and analytics. In addition, Adam Groom and Paul Barham, who worked in platform management at BAML, will join the firm.
The departure of William Knottenbelt, who is retiring from CME Group after 11 years at the end of this year, has led the exchange operator to reshuffle its leadership to focus its attention on growing its business in Europe, the Middle East and Africa (EMEA) and Asia. Knottenbelt served as CME Group head of international and will be replaced by several individuals. Michael Everaert will take on the newly created role of managing director and head of EMEA. Meanwhile, Russell Beattie will join CME Group as managing director and head of Asia Pacific, replacing Chris Fix, who retired last month. Lastly, Serge Marston has been appointed as managing director and head of CD&S for EMEA.
Finally, fixed income trading software provider AxeTrading appointed Greville Lucking as its new chief executive officer – following the stepping down of Ralph M Henke, announced in January. Lucking was promoted to the role after joining AxeTrading in 2018 as head of customer support & integration.